Hello Everyone!!!

The moderators and myself have come up with a guide to requesting a via venue address. This is to help ensure you receive the information you need on the film/TV show/play you've requested. Also, this will help the moderators and GM's to find the most accurate information, including dates and an address, etc. to fulfill your requests!
Note:
We get
TONS
of 'Via Venue' requests every day/week and it can very difficult to keep up with the amount posted! So please bare with us.
1.
There is a limit to ONLY 1 request per day!
It is in fine print on the board index until "Add/Request a Via Venue address", so please follow this.
2.
You should include in your request the following:
An IMDb.com link for the film/celeb or wherever you happen to get your information from
Cast in the film
Any additional information the moderators should know to help us find the address
3.
Before posting your request, use the
Search Fanmail.biz bar
at the very top of the page to see if what you are wishing to request is already in the database. If you don't see anything there then please search the
"Add/Request a 'Via Venue' address" forum
by doing the following:
Go to:
Search
This is what you should see when you click the link above.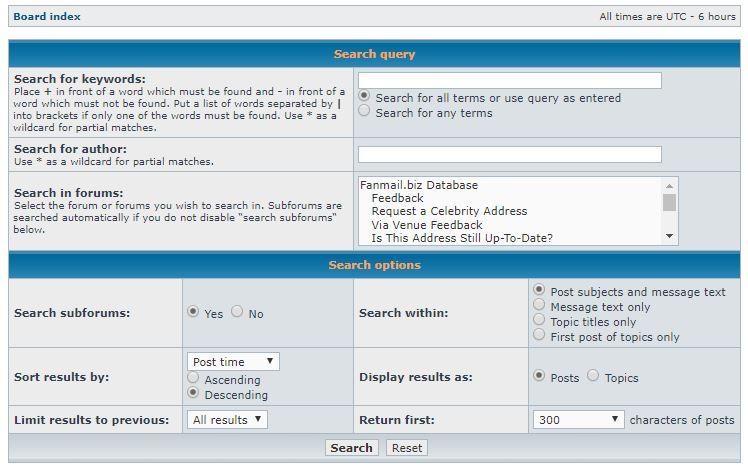 Under
Search for keywords
type in the film/TV show/play or actor/actress you wish to request an address for.
Under
Search in forums
scroll down to "Add/Request a Via Venue address" and select it.
Then hit
search
and see if you get any results. If you do, please continue discussion on one of the existing threads and do
NOT
create a new thread.
This is so we can limit the number of threads on the same topic. If you happen to request for information on an already existing topic, we will then link you to topic and lock your thread.
4.
If you do not find anything on either searches, then you may create a new topic and remember to please post a url address with info on the film or tv show your requesting! Ex. A page from
IMDb.com
5.
If after a week's time your thread has not been responded to by a mod or GM then you may
only
"bump" it then!! This is to make sure all members get the opportunity to request and other posts that have yet to be answered aren't pushed down.
Note:
We do have tendencies to forget or get busy, so please bare with us if we aren't quick to respond.
6.
PLEASE do
NOT
write "VERY IMPORTANT" in your posts. Every members post is just as important as yours! They will ALL be treated in the same respect!! Thank you!
Thanks
so
much for taking a few minutes to review this guide.
Larisie