Moderator: admin
Forum rules
Sponsored link:
Try Amazon Music Unlimited 30-Day Free Trial

Search the message board

Autograph Collector

Posts: 522
Joined: Tue Jun 04, 2013 7:34 pm
Interests:
Contact:
Demi lovato or Beyoncé ( both personalized)
Autograph Collector

Posts: 33
Joined: Fri Aug 02, 2013 10:15 am
Interests:
Contact:
My Rosie Marcel + Camilla Arfwedson ones! Gonna Treasure Them Forever

.
That's an easy question for me. My favorite autos by far are the one's I received from Johnny Depp. My favorite autographs from my favorite actor. Gonna treasure these ones forever for sure

And of course I'd never ever give these ones away

In-Person:
Emma Watson, Sir Roger Moore (x2), Vin Diesel, Jennifer Connelly, Ray Winstone (x2), Logan Lerman (x2), Darren Aronofsky, Douglas Booth, Terry O'Quinn (x2), Bernd Eichinger (x3; †)
Favourite VV:
Johnny Depp (x3), Diane Kruger (x8), Daniel Radcliffe (x2), Keira Knightley (x2), Hugo Weaving (x2), Gemma Arterton, Nightwish
Favourite TTM:
Eva Green (x2), Sir Ian McKellen, Geoffrey Rush (x2), Jerry Stiller (x2)
Favourite obtained through trades:
George Clooney (IP), Matt Damon (IP), Will Smith (IP)
Autograph Collector

Posts: 33
Joined: Wed Apr 16, 2014 2:01 pm
Interests:
Contact:
My very first autograph holds a very special place in my heart, simply because the experience of it was both nerve-wracking and awesome; its from actress Julie Benz.
I met her for the first time ten years ago, and the convention she attended was also my first as well. I remember walking down the main hall, seeing all these people I'd grown up only knowing as characters on TV or film...and almost hyperventilating because I was so starstruck. Thankfully, the building had a public break room, so I sat down with my bag and just breathed for a few minutes, taking in the reality of the situation. I kept telling myself, "They're the same as you, just with much better jobs...relax..."
Anyway, I went back to the main hall moments later, and very cautiously approached Julie's table. I'd never spoken to a celebrity before, so I think I wound up stammering a bit. Julie was very sweet, taking the time to chat briefly and sign a modelling shot. I told her I wasn't much of a "Buffy" fan anymore, but really liked her character on "Roswell". I guess she decided to use some dry humor, because this was the result...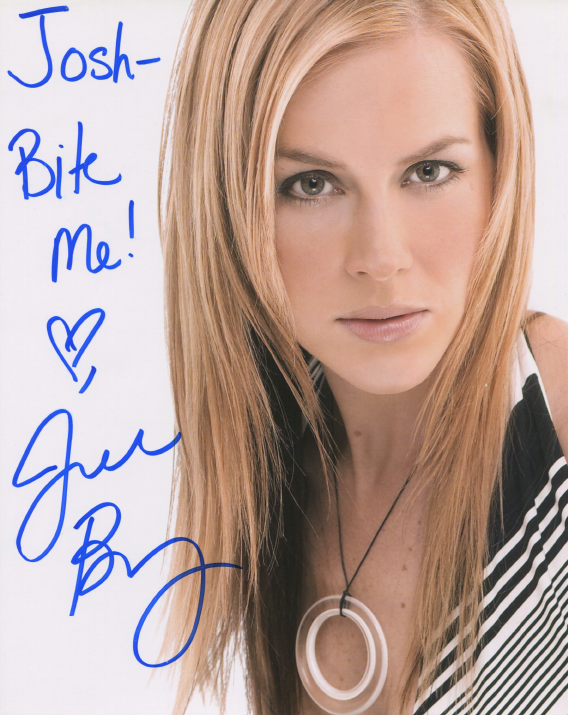 She also took a picture with me at that show, but sadly, I lost my only copy. I did see her again at a show in 2012 though, and tried out a professional photo service there. The result was OK, but the experience was a cattle call.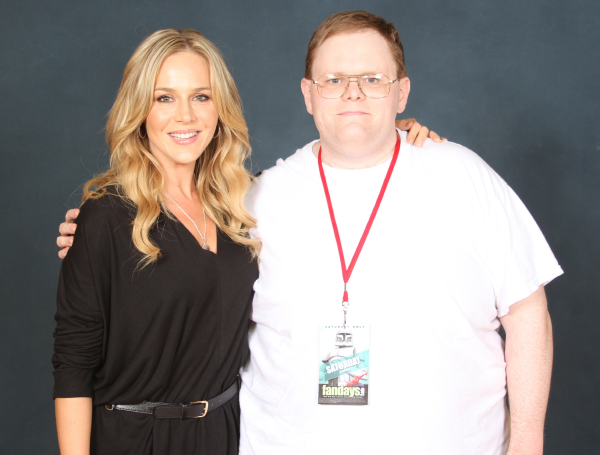 Autograph Collector

Posts: 55
Joined: Fri Aug 10, 2012 2:12 pm
Interests:
Contact:
Jodi Benson because she signed my Little Mermaid VHS sleeve from my childhood so I really cherish it.
Most wanted: Tom Hiddleston, Benedict Cumberbatch, Jennifer Lawrence, Demi Lovato

Autographs: Andrew Lincoln!!, Taylor Swift!!, Matthew Lewis, Natalie Dormer, Sophie Turner, Elle Fanning, Dakota Fanning, Sebastian Stan, Ashley Benson, Jodi Benson, Jeremy Renner, Degrassi cast, Eric Stonestreet
Autograph Collector

Posts: 640
Joined: Tue Nov 07, 2006 5:53 am
Interests:
Contact:
-
Last edited by
autograph hound
on Thu Oct 23, 2014 2:49 am, edited 1 time in total.
Autograph Collector

Posts: 127
Joined: Fri Jul 23, 2010 7:54 pm
Interests:
Contact:
Rachel McAdams and Amanda Seyfried, both signed on the same photo.
Last edited by
DistantAvalon
on Fri Sep 05, 2014 8:30 pm, edited 1 time in total.
Autograph Collector

Posts: 131
Joined: Sat Dec 14, 2013 5:44 pm
Interests:
Contact:
My signed TFIOS book is my favorite autograph! It's signed by Shailene Woodley, Ansel Elgort, and John Green twice, haha. It's my favorite, since I am a huge fan of the book, movie, actors, and author. It means so much to me too since it has the sentimental value of being signed at one of the best days of my life at the TFIOS concert.
New favorite, hands down:
HARRISON. FREAK'N. FORD.
FAVORITE IP SUCCESSES: Edward Norton, Steven Spielberg, Harrison Ford, Clint Eastwood, Alan Rickman, Johnny Depp, Martin Scorsese, Ryan Gosling, Leonardo DiCaprio, Jennifer Lawrence, Benedict Cumberbatch, Liam Neeson, Matthew McConaughey, Jake Gyllenhaal, Matt Smith, Ridley Scott, Charlize Theron, Bryan Cranston, Dustin Hoffman, Stan Lee, Jim Carrey, Harvey Keitel, Christian Bale, Will Smith, Brendan Gleeson, Woody Harrelson, Brad Pitt, Angelina Jolie, Tom Hiddleston, Cate Blanchett, Daisy Ridley, Ryan Reynolds, Ben Affleck, Tom Cruise, Christopher Walken, Quentin Tarantino, Samuel L. Jackson, Javier Bardem, Steve Buscemi, Peter Capaldi, Tom Hanks, George Clooney, Michael Fassbender, Sebastian Stan, Tom Hardy, Jeremy Irons and Scarlett Johansson.

MOST WANTED: Natalie Portman (forever #1), Kevin Spacey, Russell Crowe, Jack Nicholson, Cillian Murphy, Paul Giamatti, Sean Connery, Robert DeNiro, Ralph Fiennes, Denzel Washington, Aaron Paul, Robert Redford, Morgan Freeman, Sean Penn and Michael Caine.
Autograph Collector

Posts: 3
Joined: Tue Aug 26, 2014 6:48 am
Interests:
Contact:
Users browsing this forum: No registered users and 1 guest