Moderator: admin
Forum rules
Sponsored link:
Try Amazon Music Unlimited 30-Day Free Trial

Search the message board

Autograph Collector

Posts: 35
Joined: Sun Dec 17, 2017 3:15 pm
Interests:
Contact:
This is tough, I would have to say:

Madonna
Blondie
Jay Z
Cher
Tina Turner
Mine is tied between my signed copy of The Audacity of Hope by Barack Obama or the entire crew of the Enola Gay, who dropped the nuclear bomb on Hiroshima.
Favorite Autographs: Crew of the Enola Gay, Barack Obama, Leonardo DiCaprio, Hillary Clinton, Kirk Douglas, Peyton Manning, Tiger Woods.
Check out my TTM blog with email successes! http://www.gridironshowcase.weebly.com
Let's cut the nonsense.
You don't want a blog where some guy is trying to sell you his book of TTM "secrets" or trying to beg for donations.
You don't want a blog that will give your computer cancer with ads.
Gridiron Showcase is an ad-free and non-profit blog that documents addresses that actually work.
Collecting autographs on playing cards presents it's own particular set of difficulties, particularly when signing the face cards, or the higher-numbered black suited cards, as there is less white space for signing.
Jonas Salk got around this by signing the card four times - once on each edge!
~Antic5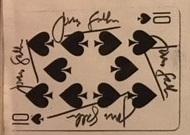 Uploaded with
surfmypictures
Autograph Collector

Posts: 36
Joined: Tue May 21, 2019 10:39 am
Interests:
Contact:
I would say my favourite would have to be Sir Christopher Lee, i received his autograph on the item i sent but one year after he died. He must have signed it and tucked it away and was found when someone was going through his things. Its genuine ive studied it and check other autographs of his so 100% certain its the real thing.
Some of my 2020 successes on
Http://Nicktheautographcollector.wordpress.com
Kim Novak, Bella Ramsey, Jane, Horrocks, Adrian Dunbar, John Shrapnel, Miltos Yerolemou, Daniel Radcliffe, Lia William's, Mark Addy, Ben McKenzie, Jennifer Saunders
Autograph Collector

Posts: 18
Joined: Mon Nov 04, 2019 5:04 pm
Interests:
Contact:
That's a hard one because I have so many favorites. I have about 60 in total that I have collected since 2007. My favorite one's are going to be my Melanie C ones when I receive them hopefully next month some time or maybe sooner.
Idina Menzel X4
Kristen Chenoweth X3
Dakota Fanning X3
Elle Fanning X1
Evie Clair X1 ( America's Got Talent)
Mariska Hargitay X5
Jake Thomas (Matt McGuire from Lizzie McGuire)
Kimberly Williams X1
Ashley Judd X1
Martina McBride X3
Jenna Elfman X2
LeAnn Rimes X2
Bailee Madison X3
Aria Wallace X2
Autograph Collector

Posts: 18
Joined: Mon Nov 04, 2019 5:04 pm
Interests:
Contact:
How did you get one from Jake Gyllenhall?
I would say my - Raul Esparza, Richard Dawson, Patrick Macnee and Ben Daniels..
Users browsing this forum: No registered users and 2 guests