Awesome!

Got another successful reply from Chad Michael Murray!!

I was curious after I got my first one back on July 1st 2010 if it was signed authentically, so I re-sent another request on July 2nd and was going to compare the two when it arrived, but after I sent my request I got in touch with a representative for Chad at Celebrity Merchandise and she confirmed for me that Yes, the photos they send out for him are signed authentically by Chad.

So now I have two authentically signed 5x7 photos of Chad to add to my collection. lol.

Thanks Celebrity Merchandise and Chad!!

Envelope: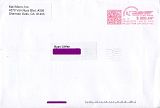 5x7 Signed Photo:
Sent: July 2nd 2010
Replied: August 6th 2010
Days Taken: 36
Return Address:
Mail Mann Inc.
4570 Van Nuys Blvd. #306
Sherman Oaks, CA 91403
USA
RYAN J.