Bryan Cranston
"Network" (Until 24.03.18) -
NO MORE VALID
National Theatre
Upper Ground, South Bank
London SE1 9PX, UK
Sent: 17 Jan 2018 >> 2 pics, LOR, SASE
Received: 12 May 2018 >> 2 pics signed in my SASE, dedicated with a great note
Waiting time: 3m 26d
I know Bryan stopped signing TTM as he announced in his Facebook after having received tones of fanmail VV at National Theatre in London, where he performed. I mailed him before the notification and haven't received anything by the time he posted it.
I was very much upset, since I hoped he will sign one for me.
Yesterday I found an envelope in my mail box and was shocked to find both of my pictures signed and personalised.
As you can see the postal stamp on the envelope doesn't let you identify the country where they were posted from. Not UK for sure, may be US? Then it worked with the UK stamp on the envelope?
Anyway, he also enclosed a piece of cardboard, so that the photos would arrive safe, as they did.
Extremely thankful and grateful to Brian for being such a great actor and such a great man! I met him at Munich FilmFest last year but didn't manage to obtain his autograph IP. Now I have one. Many thanks!!!! <3 <3 <3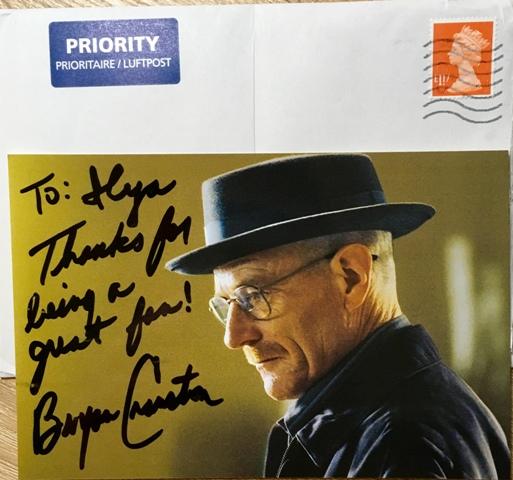 Uploaded with
surfmypictures