Hi everyone!
Still excited about this one! As some of you know, I've already met Benedict briefly when I was in London last December. That didn't go too well though. I was too shocked to even ask a photo!
We bought theater tickets to see Benedict's Hamlet at the Barbican like a year and a half ago and last week we were in London and finally saw his performance! It was so great! It was also nice to see that alongside Ben there was Ciaran Hinds playing Claudius. Ciaran is known for his roles in tv-series Rome and Game of Thrones and also to me from his roles in films such as Munich and There Will Be Blood. He is such a talent.
Benedict had stated pretty early on that he would not do any stage door appearences, so I was emotionally ready to just watch the play of Hamlet. However, I stumbled across with a Youtube video where he was signing for fans outside the Barbican Theater Stage Door and I bolted! So cool! I have to try also!
So after the show we went and waited for around 10-15 minutes before the actors started coming out. I met Joe Bill who played Horatius in Hamlet. I recognized him from a movie called "The Fall" directed by Tarsem. A great old school adventure/drama with practical effects and great locations! You guys should check it out! I complemented Joe for his performance and he was quite surprised that we knew him and asked his autograph because no-one else did! I don't know what's it with me and that movie. I met Lee Pace last year also and he was the leading man in it!

Also came out Jim Horton and Ciaran Hinds, both signing for fans! Both were so great and cool!
Ciaran Hinds:
And finally came out the Sherlock star himself, Mr. Benedict Cumberbatch! The security had asked fans to keep calm because there were residents nearby and they didn't want to disturb anyone. To my surprise people mostly kept their cool (I wouldn't count myself in them..).
Benedict was signing theater programs and tickets for fans but he was in a quite hurry and I do not blame him, the crowd must've been 3-4 rows deep. But he did his best! He came to us and signed our program and I asked could we have a photo with him and Ben agreed after he had signed the entire line... So cool.
He came back and our camera was so slow that Benedict had already turned his head as the camera flashed! But it's a great memory for the few minutes that we were in the close proximity of this brilliant actor.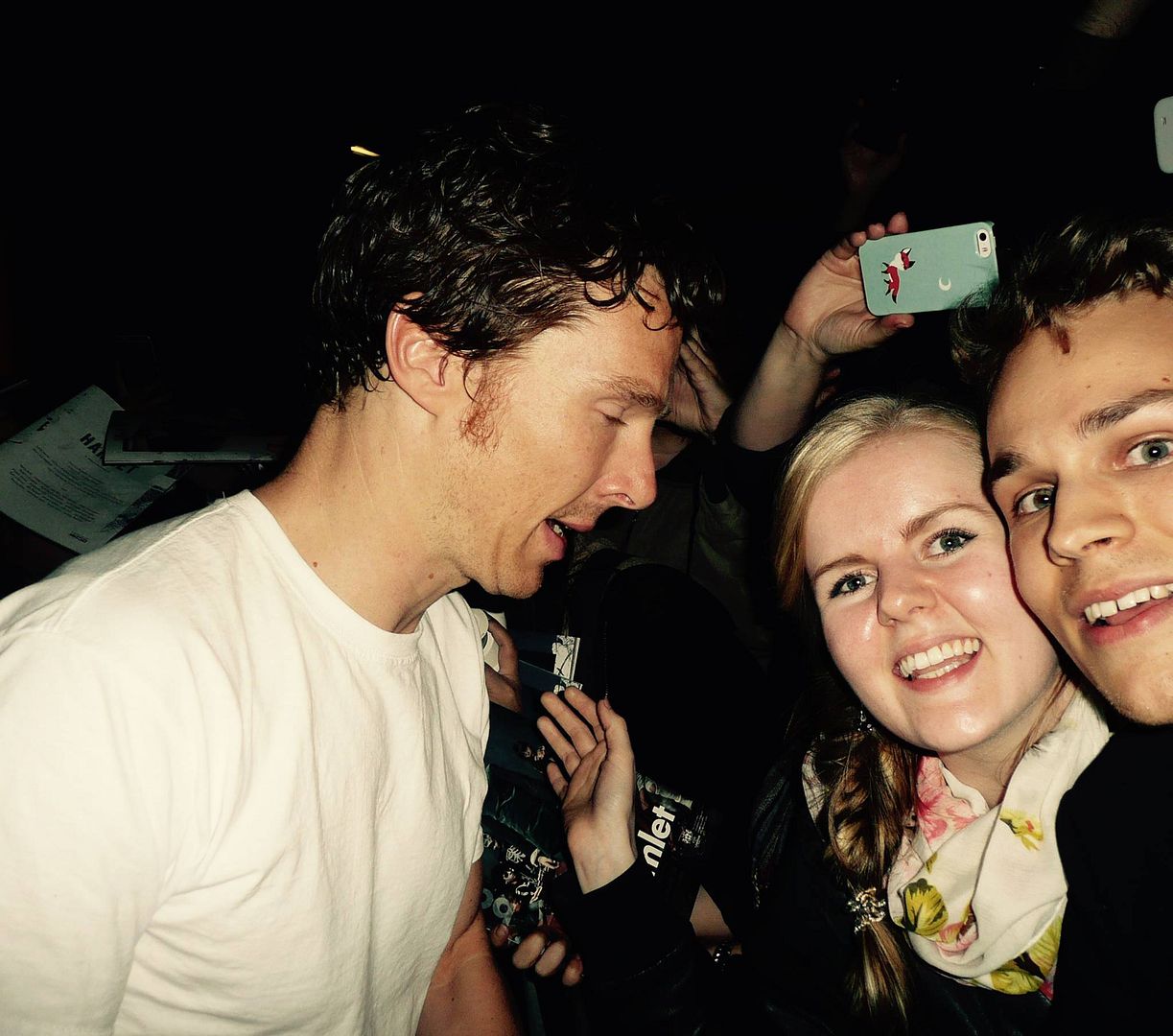 After the photo I got a bit carried away and told Ben he should do more Sherlock episodes and visit Finland again etc.
I afterwards realized that I was a bit too loud to sound offensive since the security was glancing me: "Who the hell is this weirdo?"

So much for keeping my cool.
But in a nutshell: I went in not expecting an encounter with one of my favourite actors and got the whole experience. If Benedict keeps doing Stage Door appearances night after night until his show ends, I will salute him. It's not easy to give such an energetic performance every night and then go out to the mayhem of crazy fans and cool outside air while you are still sweaty from the performance!
I just love this man. Simply the best!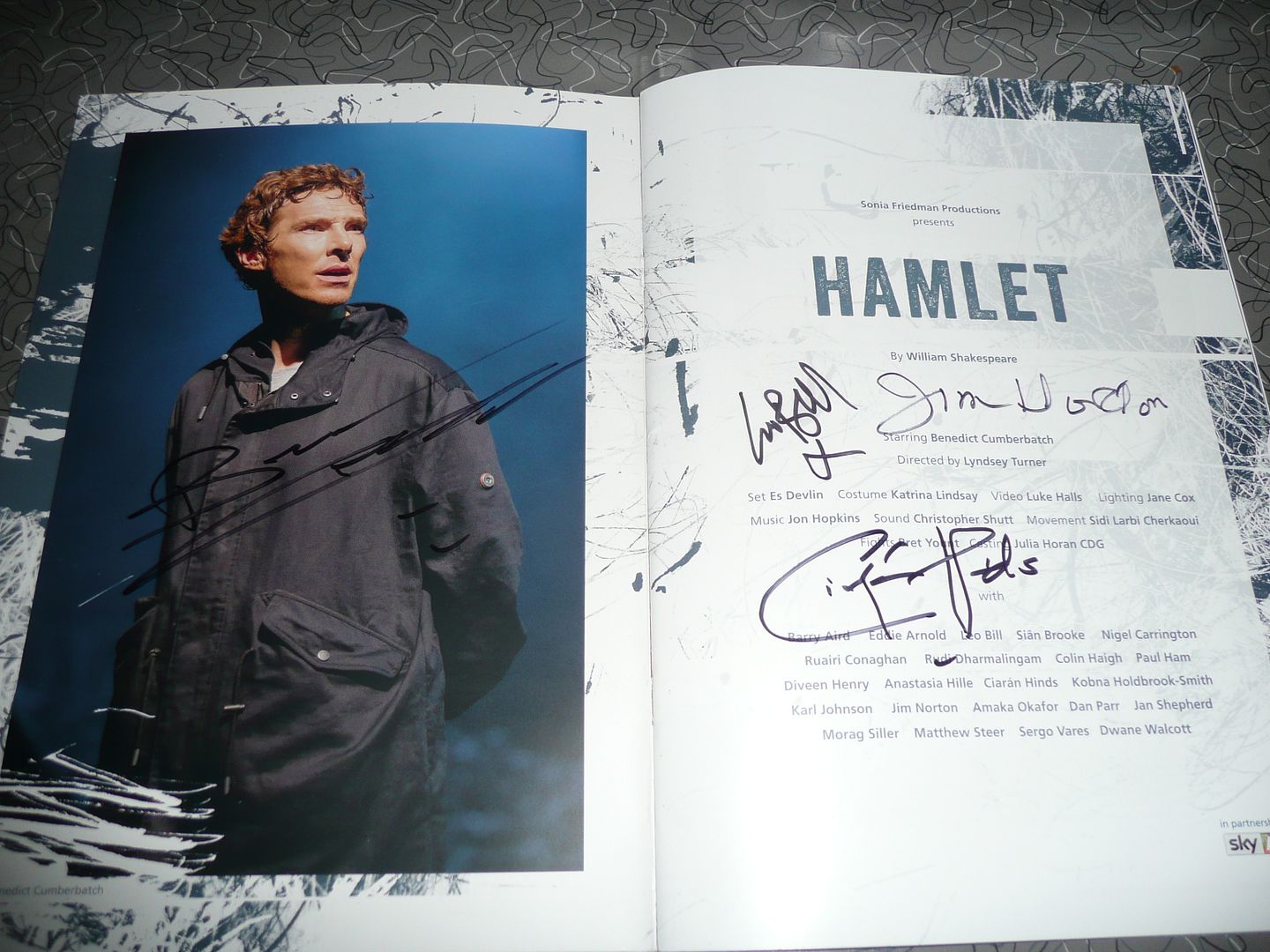 Peace out!
-V